Below, Above, and Beyond:  Future of Antwerp's Mobility and Public Space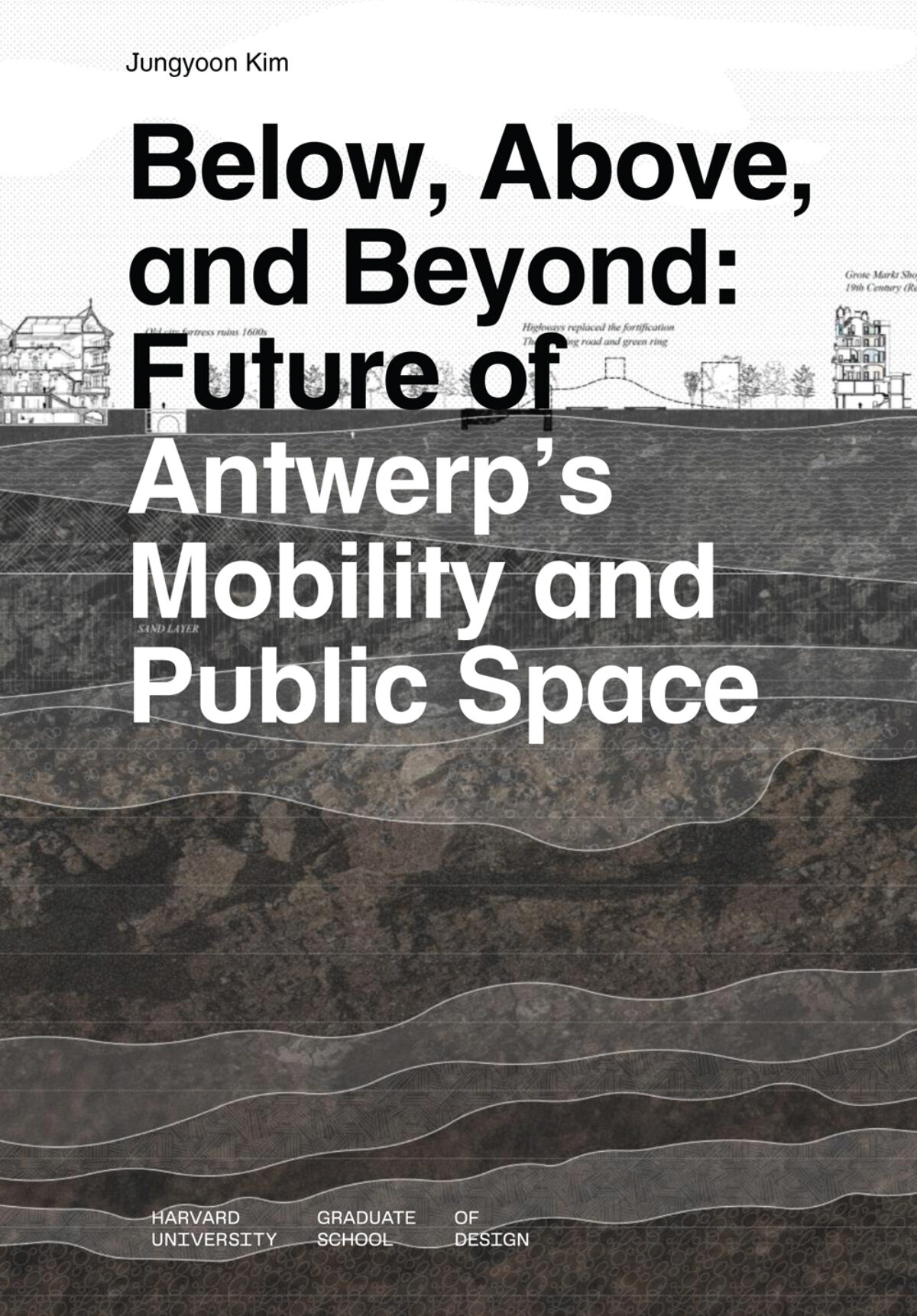 Below, Above, and Beyond:  Future of Antwerp's Mobility and Public Space is a Studio Report from the Spring 2023 semester at the Harvard University Graduate School of Design based on the studio taught by Jungyoon Kim. Contrary to the images that the rest of the world has for Antwerp (e.g., the hub of high fashion), the city is heavy on transportation infrastructures because it is home to Europe's second-largest harbor and the largest petrochemical cluster. The ring road (R1) is used daily by approximately 200,000 cars and 80,000 trucks, most of which travel toward the harbor, causing massive congestion on the road network daily. Thus, it is understandable why ample discussions and efforts have been made to enhance the city's overall traffic condition in various dimensions.
Two major mobility enhancement projects are currently underway in the city: the ongoing construction of the Oosterweel Link, which will close the incomplete Antwerp ring road (R1), and the planning of A102, which will enhance the city's overall mobility in a larger, European Union (EU) context while diverting through traffic from the city as much as possible. Although both routes have been planned to run mainly underground, the underground-to-aboveground ratio for A102 remains undecided (in connection with the city's reserved green space network), providing the studio with a tremendous opportunity to reshape the city's car-dependent mobility infrastructure toward decarbonization. The studio examined the four nodes on the planned route of A102 and considered how the landscape can facilitate a framework for the future changes that the community will face because of such infrastructural change. As a strategy, students were asked to challenge the conventional monofunctionality of urban infrastructure by proposing the interweaving of the under- and above-ground. How can the newly planned underground highway be 'revealed' as an urban form and affect the citizens' daily lives positively by shaping their public space? The readers of this report are invited to gain insights from the answers of 12 students to this question.
The studio would like to thank Professor Sarah Whiting, Dean of the GSD, and Professor Gary Hilderbrand, Chair of the Department of Landscape Architecture, for their care and support. The course was a parallel studio with that of the Faculty of Design Sciences of the University of Antwerp (U of A) and benefited from the dynamic exchange between the two schools. I am very much grateful to Professor Maarten Van Acker and Shana Debrock of the U of A for their intellectual engagement and hospitality, without whom this studio would not have been possible.
The studio invites all readers on a journey below, above, and beyond Antwerp, which will unfold in various other forms in the near future.
Series Design by Zak Jensen and Laura Grey
Report design by Lara Prebble
189 pages, 17 x 24.5 cm