Although she graduated from the Harvard Graduate School of Design Master in Landscape Architecture program in 2017, Lanisha "L." Blount would be hard-pressed to call herself a designer—the term "designer" feels too limiting to describe the range of her professional interests and activities. When she's not hanging onto the edge of a boulder by her fingertips, or composing photo essays of her friends on their climbing adventures all over California with brands like The North Face and Arc'teryx, she's working as an innovation consultant, partnering with Fortune 100 companies to help shape the future of their industries. "My path from the GSD has been very non-traditional," Blount acknowledges. "But who says you have to be a traditionalist to change things? There's more than one way to effect change in the environment, and I wanted to think much bigger."
Lately, Blount has trained her focus on changing how we envision the natural landscape—and specifically, how people of color are depicted within it. As outrage over George Floyd's killing sparked conversations about systemic racism across the country, and the coronavirus pandemic precipitated a spike in traffic to national parks, Blount was compelled to bring the outdoor and adventure industry into the dialogue. "I looked up these [adventure] magazines to see the last time they had a person of color on the cover and it was often not even in the last two years," she says.
In response, she designed and posted to Instagram a series of speculative covers for major outdoor publications, each featuring her powerful portraits of climbers of color of all genders. With these visual provocations learned from consulting, Blount asked fellow adventurers to "imagine if [they] didn't have to imagine." Blount's project also explicitly called upon leading outdoor brands to step up their efforts to build a more diverse and inclusive industry. "June was such a harrowing month," Blount recalls. "Doing this storytelling was all about illuminating joy outside and rethinking how I can keep elevating people who should be on covers."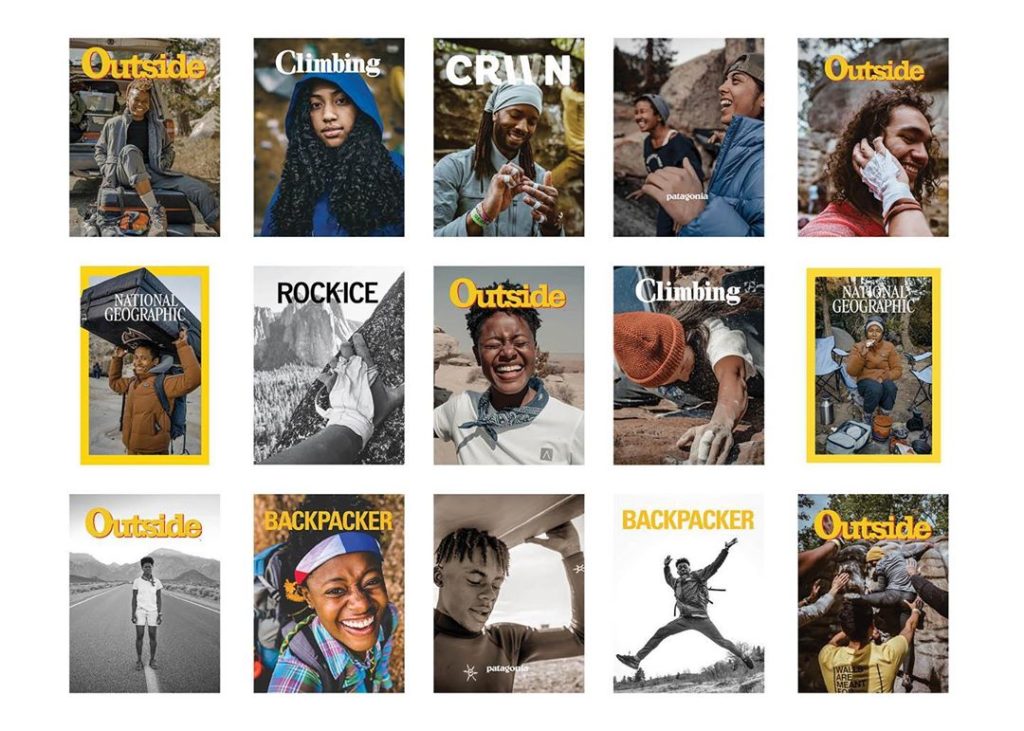 The social media posts that Blount thought would only get a few hundred likes ended up going viral. All but one of the publications and brands she tagged in the posts responded; one brand called and apologized, and several others offered her advisory roles. A few months later, when Outside's September/October issue arrived on newsstands, it was Blount's joyful face gracing the cover—but only after a personal promise from the magazine's editor to do more to represent adventurers of color.
Blount believes her passion for adventure and greenspace is what drew her to studying the built environment in the first place. While in college in Atlanta, she fell in love with rock climbing—a practice that enabled her to start thinking about things more spatially. She's quick to point out that, while she always liked thinking about the environment, "it doesn't necessarily have to be limited to a building."
After arriving at the GSD in 2014 (with a master's degree in planning already under her belt), Blount discovered she was much more drawn to big-picture thinking than to a traditional career in design. By her second year, in addition to her design coursework and studios, she was doing an independent study course on applying innovation to landscape architecture, studying product design at the Engineering School, and taking a class on Black entrepreneurship at the Harvard Business School. Blount spent her weekends and holiday breaks networking at conferences and traveling to New York and San Francisco to meet with anyone in the field of design thinking, innovation consulting, and tech companies that would talk to her—she counts over 70 coffee meetups in one year alone—from executives at Oculus, IDEO, Pinterest, and more. Still, she didn't let the rigorous demands of a master's degree and an ambitious approach to starting a consulting career prevent her from climbing. "I was super religious about it," she says with a laugh. "I went three times a week."
After several consulting roles with blue-chip firms, Blount moved to the Bay Area and launched her independent strategic and creative consultancy, WNDR Haus, this year. Already she's collaborated with vaunted outdoor brands including Patagonia, Athleta, Arc'Teryx, and Topo Designs, as well as mobility startups such as Onewheel. Creating her own career path has allowed Blount to meld innovation, storytelling, and adventure with her background in design, and innovation to effect change in landscapes both geographic and social. Her advice to future GSD grads? Don't be afraid to think beyond your discipline. "You have to keep taking risks. The most interesting people I know took their design degrees and used them in so many alternative ways, from Teman and Teran Evans to Jack Dangermond."